Varian Medical Systems
Varian Medical Systems is a world leader in the design and manufacture of integrated systems of equipment and software for treating cancer with radiation therapy, as well as high-quality, cost-effective x-ray tubes for original equipment manufacturers and imaging subsystems for medical, scientific and industrial applications.
Varian's Security & Inspection Products is the market leader for the supply of high-energy x-ray linear accelerators for non-intrusive inspection and cargo screening applications. Varian offers the Linatron M and MP modular and portable x-ray linear accelerators, and the Linatron K pulse-to-pulse dual-energy x-ray accelerator for the detection of high density materials in cargo containers.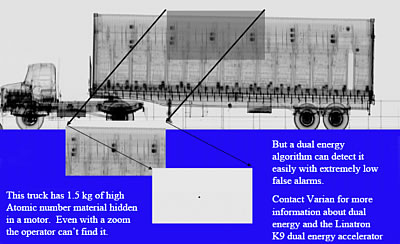 The Linatron x-ray linear accelerators are used for weld inspection, castings, munitions, aerospace products, bridge structures, reverse engineering, container screening and many more non-intrusive inspection applications. The portable systems are widely used for rocket motor testing; on-site inspection of oil refineries and nuclear power plants; pressure vessel testing; and hardware inspection. All systems offer versatility and flexibility to provide a convenient and reliable solutions to every high-energy imaging problem.
Varian's Linatron x-ray linear accelerators (linacs) are available in several models and configurations. They range in energies from 3 MV to 9 MV and at x-ray dose rates of 30 to 3,000 rads per minute one meter from the focal spot. Which in terms of actual image capability translate into 2.5 cm through 40 cm of steel penetration.
The Linatron is backed by over 35 year of industrial imaging experience. Varian is the world's leading manufacturer of linear accelerators having delivered 4000 radiation therapy linacs including over 500 systems for NDT and cargo screening applications worldwide. To date Varian has delivered over 100 linear accelerators for cargo screening.
Additional information about Varian can be found at www.varian.com/sein and in Varian's annual report.
Varian Medical Systems employs approximately 3,280 people who are located at manufacturing sites in North America and Europe and in its 55 sales and support offices around the world. For the fiscal year ending in September of 2004, Varian Medical Systems had revenues of over $1,236,000.