M-Systems Inc.
M-SYSTEMS
Rugged Solid-State Flash Disks
Reliability You Can Count On To Succeed
M-Systems provides innovative rugged electronic solid state disks based on flash memory. The Fast Flash Disk (FFDâ"¢) product family is drop-in replacements for mechanical Serial ATA, Ultra ATA/IDE, Narrow and Wide Ultra320 SCSI flash drives, available in standard 1.8", 2.5" and 3.5" form factors with capacities ranging from 128MB to 352GB, burst performance up to 320MB/s and read/write performance up to 45MB/s.
The FFD's outstanding performance is based on M-Systems' state-of-the-art TrueFFS® technology that provides true disk emulation, high read and write transfer rates, enhanced endurance and maximum data integrity under power cycling conditions.
Designed for systems that require top reliable data storage operating under harsh environmental conditions, FFD is the perfect storage solution for military and aerospace, tactical computers and rugged laptops, telecommunications, blade servers and computing systems. M-Systems' FFDs have been integrated by designers since 1997 as a storage solution for data recorders, moving maps, sonar, radar, fire control systems, black boxes, C4ISR, airborne reconnaissance systems, rugged laptops, tactical computers, routers and gateways, blade servers, workstations and servers in air forces, navies and armies worldwide.

M-Systems' FFD product line
Among M-Systems FFDs customers are: AirShow, Aselsan, Astronautics, Boeing, Bombardier, Cisco Systems, Daewoo, DSO, DSTA, ECI Telecom, Elbit, Elta, Ericsson, FLIR Systems, GE, General Dynamics, Harris, Hitachi, IAI-Israel Aircraft Industries, IBM, Kontron, L-3, LG, Lockheed Martin, Matsushita, Melco, Miltope, Motorola, NEC, Nortel Networks, Northrop Grumman, OKI, Rafael, Raytheon, RUAG Aerospace, SaabTech, Siemens, Smiths Aerospace, Sonus networks, SES, Staubli, Tadiran Telecom, Targa, Thales Computers & Toshiba.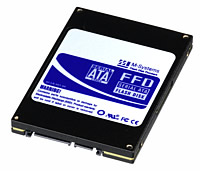 FFD 2.5" Serial ATA flash drive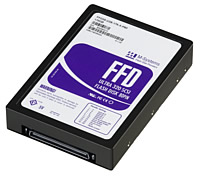 FFD 3.5" Ultra320 SCSI flash drive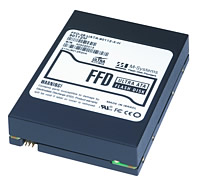 FFD 2.5" Ultra ATA flash drive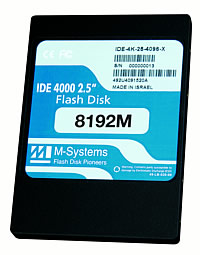 IDE 4000 2.5" flash drive
FFD (Fast Flash Disk) Product Line Highlights
Flash Solid-State Drives with no moving parts
TrueFFS® Technology for disk emulation
1.8", 2.5" and 3.5" standard Form Factors
Serial ATA, Ultra ATA/IDE, Narrow and Wide Ultra320 SCSI interfaces
Up to 320.0 MB/s Burst R/W rate
Up to 45.0 MB/s Sustained Read rate
Up to 40.0 MB/s Sustained Write rate
Access time <0.02 msec
Up to 352GB disk capacity
Supporting hot swapping (hot insertion)
Slim packages down to 7.4mm' case height
Standard connector type : SATA, 40, 44, 50, 68 and 80 pins
6U VME, 6U and 3U Compact-PCI and PMC solid-state memory boards
Sun Microsystemsâ"¢ Solarisâ"¢ Ready
High Reliability and Extended Life Expectancy
Field MTBF exceeds 1,000,000 hours
Maintenance-free solution (lower Total Cost of Ownership)
On-the-fly EDC/ECC based on BCH algorithm
BER (Bit Error Rate) of 10^-20
Built-in power-up self-test with manual and automatic self-diagnostics
Data integrity under power cycling
Bad block mapping-out algorithm
Extended endurance >5,000,000 Write/Erase cycles; Read unlimited
Dynamic Wear-leveling
Compliance: CE, UL and FCC Class B
5-year warranty
Best Rugged solution for harsh environment conditions
No moving parts
Operating temperature range: -40°C to +85°C
Storage temperature range: -55°C to +95°C
Operating altitude: +80,000ft
Humidity: 5% to 95% relative, non-condensing
Operating shock conditions: 1,500G per MIL-STD-810F
Operating vibration conditions: 16.3G RMS Per MIL-STD-810F (Random 20Hz to 2,000Hz, 3 vibration axes)
Enhanced Data Security
Quick security erase - ability to erase the entire disk media in seconds
Auto-resume security erase on power interrupt
Partial / Selective security erase
Secure Erase during power down
Sanitize comply with DoD NISPOM 5220.22-M, NSA 130-2, Air Force AFSSI 5020,
Army 380-19, Navy NAVSO P-5239-26 and IREC (IRIG) 106
Contact Distributors
http://www.m-systems.com/site/en-US/Contact/MsysWorldWide/