World Security Report
2017-04-27 07:52:52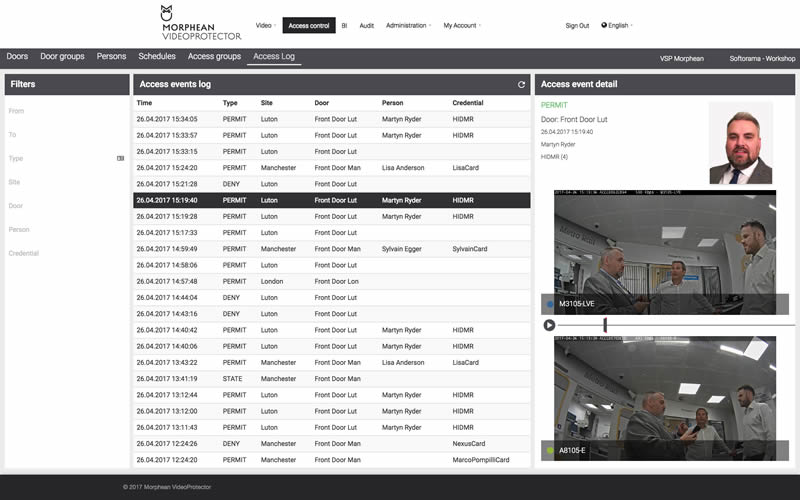 Morphean will expand its successful VSaaS (Video surveillance as a Service) solution Videoprotector to include Physical Access Control, to address increasing customer and end user demand for ACaaS (Access control as a service).
Morphean will enter the physical access control market. Over the last year Morphean have seen increasing demand from their Video Service Providers and end customers to expand their successful video surveillance and business intelligence solution Videoprotector to include managed physical access control.
Many end customers are building strong partnerships through our Video Service Providers to trust them as a true Security-as-a-Service provider managing end to end physical security solutions on their behalf.
Videoprotector access control is a truly fully integrated solution with tight interaction between access control and video surveillance to provider customers, service providers and alarm receiving centers a simple to use, integrated user interface to manage, audit and interact with physical access control. This extends further the supported solutions for IP video surveillance, IP intercom, IP speakers, IP I/o Modules, and intelligent analytics to provide a full end to end secure security and business solution utilising the latest cloud technology.
Videoprotector Access Control will be previewed to key Video Service Providers on 26th April 2017 at the Axis Communications, UK headoffice and will be fully available during May 2017.
Videoprotector access control can be fully managed by the end customer, service provider or a mix of both via our hosted online platform.
The platform utilizes the AXIS A1001, which an open IP-based door controller that uses Power over Ethernet (PoE) technology to speed up installation and lower deployment costs. The AXIS 1001 delivers true interoperability and best-of-breed choices for present and future requirements.
"We've seen an opportunity to address an increasing customer need to outsource the day-to-day management of physical access control to their trusted security and service providers. It has traditionally been challenging for external companies outside of the organisation to manage physical access control due to technology limitations. With our cloud network and availability of our hosted solution we are able to securely allow service providers to manage physical access control on the customer's behalf and really address this growing customer demand to have professional security and service companies fully manage their security – it provides us with a great opportunity to establish Morphean as the leading Security-as-a-Service provider" Martyn Ryder VP Sales & Marketing.
"Axis is excited for the release of Morphean's Videoprotector Access Control solution. Their integration with the A1001 Door controller provide an easy to install and easy to use full access control solution. The Morphean Videoprotect Access Control and Axis A1001 solution is a best-of-breed, one of the first of its kind in the Security-as-a-Service for access control. " Stephanie Hensler, Director of Business Development, Access Control.
---
For more information contact: