FEC HELIPORTS WORLDWIDE LTD
2017-08-22 11:46:55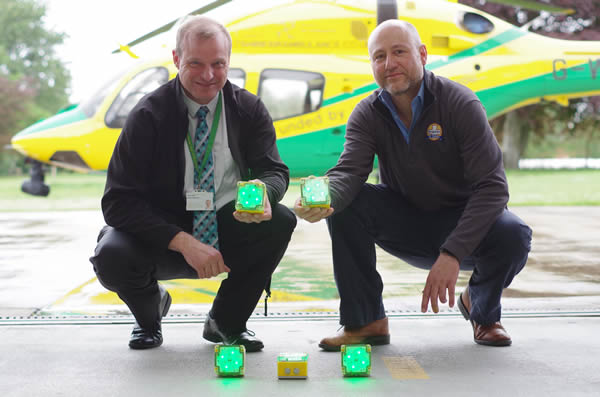 Lighting Up Wiltshire Air Ambulance's Airfield thanks to The Help Appeal
WILTSHIRE Air Ambulance has secured funding and taken delivery of a new airfield lighting system that will assist its helicopter whilst taking off and landing safely at its airbase in Devizes at night.
The purchase of the new lighting, a HEMS-Star portable helipad lighting system, has been funded by a donation of £6,950 from the HELP Appeal. The HELP Appeal is the only charity in the UK that funds the development of helipads at Major Trauma Centres, key A&E hospitals and air ambulance bases across the country.
This donation follows the £250,000 funding that the HELP Appeal has already pledged for Wiltshire Air Ambulance's helipad and associated costs at its new airbase at Outmarsh Farm, Semington, which is currently under construction.
The new LED lighting units are placed on the ground to mark the aiming point and wind direction for helicopter departures and arrivals from its base at Police Headquarters, Devizes. The new lighting has been supplied by FEC Heliports Worldwide Limited, of Chesham, Buckinghamshire.
Kevin Reed, Head of Operations at Wiltshire Air Ambulance, said: "The donation from the HELP Appeal for our new airfield lighting is extremely welcome. The safety of our aircraft is imperative and this new portable lighting will aid our pilots and paramedics when tasking to an incident and when arriving back at base in Devizes in the hours of darkness. We fly up to 19 hours a day, until 3am, so airfield lighting is essential to our operation.
"The portable lighting will be taken to our new airbase at Semington as part of the lighting infrastructure when we move there next year. We are so grateful to the HELP Appeal for enabling us to purchase the new airfield lighting and for the £250,000 it is donating for the helipad and associated costs at our new airbase."
Robert Bertram, Chief Executive of the HELP Appeal, said: "We are delighted to have been able to provide further funding for the Wiltshire Air Ambulance, and are pleased our donation will ensure the safe takeoff and landing of the Air Ambulance at their current airbase.
"The Wiltshire Air Ambulance has been providing an outstanding service for many years, and we are delighted to be able to provide this additional funding of £6,950, on top of our £250,000 grant, which will allow the airbase to continue to run at night – saving more lives than ever before. Time is life, and just a few minutes saved for air ambulances to reach an incident can make all the difference to the survival and recovery of a patient in critical care."
---
For more information contact:
1 The Mead Business Centre
176-178 Berkhampstead Road
Chesham
Buckinghamshire
HP5 3EE
United Kingdom
Tel: +442081445934