Agile Borders Limited
2017-08-29 08:07:13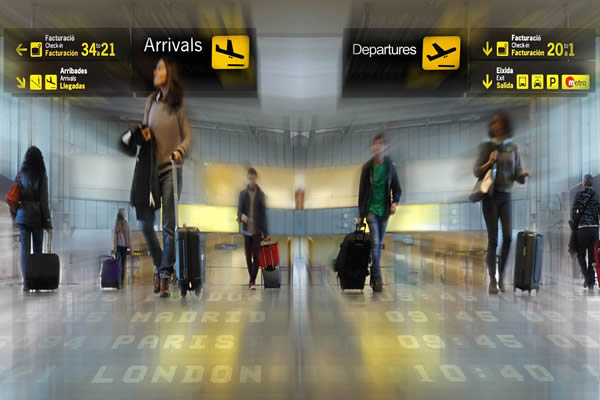 European Border Control, Schengen Zone Exit Checks – Can API remove delays? The thoughts of Andrew Priestley
This summer, the British media has been full of reports of frustrated holidaymakers complaining about long queues as they wait at passport control before being able to board flights bound for the UK. British newspapers have reported that passengers returning from their holidays in countries within the EU's Schengen Zone of free movement are experiencing delays so bad that some have missed flights. The reasons suggested for these delays in the British press are sadly predictable, ranging from allegations of retaliation from the EU against Britons for BREXIT, to the real reason for the delays; mandatory checks of travellers' documents for every person leaving the Schengen Zone, not just, as the British tabloids would have you believe, Britons.
Since 7th April 2017 there has been requirement to scan the passport of every traveller entering and leaving the Schengen Zone. Scanning the passport allows for information collected about the traveller and the document to be used to increase border security: This information is checked against the Schengen Information System, SIS, a database containing a range of information including details of wanted persons. The Interpol Lost and Stolen Travel Document database is also queried to ensure the validity of the travel document. Information held by the government of the country the traveller is departing will probably be consulted too. Such checks are vital in catching people who are trying to leave a country or, in this case, the Schengen Zone, when they should not be travelling. These people may be wanted by the authorities for any number of reasons, a holidaymaker may have committed a crime while they have been visiting a country, a criminal may be skipping bail, someone may have been assessed to be a security threat and have been added to a no-fly list. There are many good reasons to carry out exit checks on every individual leaving a country.
It has been reported that the border posts at some airports in the Schengen Zone appear under staffed and this has been adding to the delays. Checks which take longer to perform, carried out by the same number of border guards, combined with the annual summer travel peak will lead to inevitable delays. Border guards are a valuable resource and take time to train and deploy, there will be an inevitable lag while supply meets the recently increased demand.
On Thursday 3rd August 2017, the UK's Independent newspaper quoted the Chief Executive of Ryanair Michael O'Leary as saying that checks on departing passengers were "somewhat pointless given that people are leaving the country". This is in stark contrast to an airline CEO I spoke with last year who wanted increased checks to be made on all passengers before they could board his or any other airlines' flights. The CEO I spoke with understood that checks on departing passengers are needed not just from an immigration or local law enforcement perspective, but that there are some individuals who pose a security risk and should not be getting anywhere near an aircraft. He saw exit checks as another safety layer that help in removing as much risk as possible from air travel from both safety and security perspectives.
Most if not all the reported disruption could be avoided if all European Member States had implemented an Advance Passenger Information (API) system. An API system collects passenger data provided in advance. This passenger data is combined with basic information about the flight on which the passenger is arriving or departing. The airlines send this data to the government of the territory the flight is operating to and from and this allows for every passenger to be pre-screened before they even arrive at the airport. An API system would remove the requirement to physically scan every traveller's document on departure. An identity check at the airport gate before boarding would be all that is required. Passengers of interest, and there are very few members of the travelling public that are of interest from a legal and security perspective, would be identified by the authorities in advance and would be apprehended at the gate before boarding.
The beginnings of a legal framework to do this were put in place with the EU Directive on API being brought into force in 2004. If this directive had gone a little further and mandated the need for API to be brought into force, rather than declaring a country had to simply adopt a position on API, every EU Member State would have an active API service. Some governments do use API, many do not, it is this situation which is preventing a common process across the EU and the Schengen Zone for exit checks using API.
Where API solutions are in place Border Agencies are advised of who is arriving and departing in advance, allowing them to formulate a response for persons of interest, this smooths the flow of legitimate travellers across the border. This is something my colleagues and I across the Border Management community have been talking about for many years. We call this the balance between security and facilitation.
Adoption of a Schengen Zone wide API would not have to mean one system delivering the service across all countries. Individual Border Agencies police their external EU borders to a minimum common standard. API could be deployed on a country by country basis using this principle. There may come a time when there is a pan European Passenger Data Exchange for API and PNR, but this is a discussion for another time.
Some countries have foregone physical exit checks during the departure process for air travellers and have become a model which the EU and the Schengen Zone countries would do well to study. Countries such as the USA and the UK removed physical exit checks some years ago and now rely on API to screen passengers before they leave their country, intercepting people of interest before they depart. Border Agencies value the ability to know who is coming to the border in advance of their arrival, this allows time to carry out detailed checks and investigations on people who may be of interest, as well as providing time to plan interventions.
In times of increasing budget restraint with agencies around the world being asked to carry out stricter checks with fewer resources, an API system would reduce the workload at the border. This would allow Border Agencies to focus their resources on interventions with people who need to be apprehended, rather than physically scanning the passports of a family, including children and pensioners, returning from their summer break. Surely the use of API to assist in managing these checks must be a better use of resources?
---
For more information contact:
6 Lucius Crescent
Colchester
Essex
CO4 9WW
United Kingdom
Tel: +447454709579