World Security Report
2017-11-21 10:23:02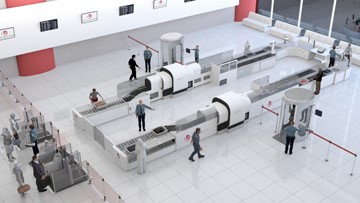 L3 Security & Detection Systems Total Aviation Checkpoint Solution at the UK Security Expo in London on November 29-30

L3 SDS is exhibiting November 29-30 at the UK Security Expo in London, at booth K34. The Security Expo is a global general-security showcase attracting an audience of government, transportation, intelligence, defense, and law enforcement personnel.

We will be displaying our total aviation checkpoint solution, including our ClearScan® automated explosives detection system for carry-on baggage. It is the first checkpoint CT scanner to pass the new European Civil Aviation Conference (ECAC-EU) C3 Standard under ECAC's testing program. C3 is ECAC's most comprehensive standard for cabin baggage, which allows for liquids, aerosols, and gels (LAGs) as well as all electronic devices to remain in cabin baggage. This is a great benefit to speed up the queue for both the traveling public and operations at the checkpoint. The C3 Standard overcomes the inherent problems of C2, which causes confusion and delays for both passengers and operators.

Our new, innovative handheld trace detector, the H150E, will also be demonstrated. The H150E detects and identifies explosives and narcotics in seconds. It offers the flexibility of a portable system with the outstanding detection performance previously available only in desktop systems. Like all of L3 trace detectors, it has the lowest false alarm rate in the industry. Its modern, icon-based interface provides a familiar user experience. As a non-radiation system, it is easily transported.

We'll also be demonstrating our MV3DTM hold baggage scanner. The MV3D's novel, fixed-gantry design provides both high-resolution 2D images with fully rotatable 3D images, allowing customers flexibility in their on screen resolution procedures. The system is designed to operate up to 40 degrees Celsius without an air conditioner, reducing power consumption and eliminating the need for condensate removal. The stationary gantry eliminates moving parts, delivering superior mean time between failure and system availability, to ensure low maintenance costs. In addition, the MV3D's lack of a rotating gantry virtually eliminates the vibration that many competitive EDS are prone to, making the MV3D well suited for installation on elevated platforms.

All of L3's products utilize software-based architectures that are upgradable to meet future and emerging threats. Always on the leading edge, L3 SDS solutions anticipate the most demanding customer expectations and regulatory requirements, while addressing evolving global security needs.

While not on exhibit, our passenger screener the ProVision® 2, is the flagship of the checkpoint with the largest deployment in the world. There are 2,000+ systems active on six continents today. Its recently approved risk-based algorithm-switching capability allows airport security to tailor its activities to specific flights and heightened security levels, especially for flights coming into the U.S. Our complete checkpoint solution also includes passenger boarding pass access control, automated tray return systems, and comprehensive monitoring and control systems.
---
For more information contact: