World Border Security Congress
2018-02-05 08:17:25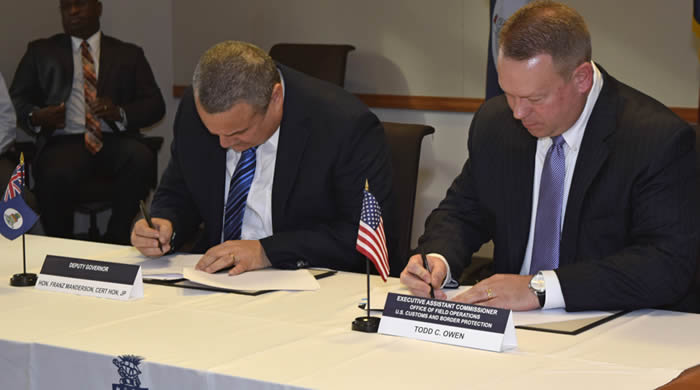 CBP & Cayman Islands Partner for Airport Fast Track Pilot Program
U.S. Customs and Border Protection (CBP) and the Government of the Cayman Islands reached an agreement Tuesday to implement a pilot program that will permit screening of passengers traveling from the Miami International Airport (MIA) to the Owen Roberts International Airport (GCM).
"This pilot is an important element to address our international engagements particularly with partners in the Caribbean" stated Todd C. Owen, Executive Assistant Commissioner for the CBP Office of Field Operations. "With this agreement we can enhance aviation security, detect fraudulent documents and facilitate air travel between the two countries without inhibiting legitimate lawful travelers."
The program, called the Airport Fast Track (AFT) Pilot, will allow for Grand Cayman immigration and custom officers to screen passengers at the Miami airport, without any law enforcement or other executive authority in the United States. Upon arrival in Grand Cayman, passengers who volunteer to be pre-screened in Miami will be expedited through the arrival process, saving time and making the Cayman entry process simpler.
"It is the first time that the US has entered into such an arrangement with another country and will be the first time that our Customs and Immigration officers will be deployed overseas in such a role. It will introduce a new fast track procedure at the airport and help to improve customer experience at peak weekend times," stated Premier Hon. Alden McLaughlin.
The AFT is similar to CBP's Immigration Advisory Program (IAP) implemented at various international airports. The IAP is designed to protect air travel and improve security by sharing techniques and information with partnering host governments.
An initial review will be conducted in 30 days with an additional review in six months to determine whether to continue the AFT Pilot on a non-pilot basis.
In screening both foreign visitors and returning U.S. citizens, CBP uses a variety of techniques to intercept narcotics, unreported currency, weapons, prohibited agriculture, and other illicit products, and to assure that global tourism remains safe and strong.
---
For more information contact:
Casablanca
-
Morocco
Tel: +442081445934