FEC HELIPORTS WORLDWIDE LTD
2018-02-14 17:06:05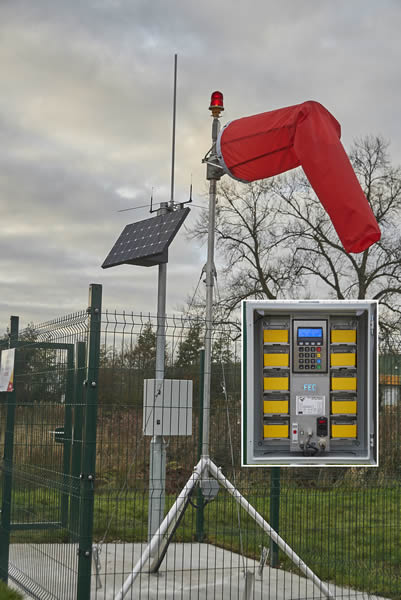 FEC Heliports delivers customer value at this year's HAI HELI-EXPO 2018
FEC Heliports has been a leading designer, manufacturer and installer of rooftop and aluminium helipads for more than 20 years. It has maintained that position by keeping an emphasis on design, flexibility, safety and innovation but perhaps most importantly by focussing on its customer requirements.
A good example of this is the recent design and build of a helipad for the University of Maryland Medical Center (UMMC), located in Baltimore, Maryland. This facility had a rooftop concrete helipad that was in disrepair with a deteriorating surface that had been repaired multiple times.
The hospital was planning to completely remove the concrete roof and replace it with a new concrete slab and add a snowmelt system inside the new concrete. The proposed schedule for this work was over 18 months long. This would have included several closures to the hospital and of course the helipad being out of service during this time.
FEC Heliports was able to offer their aluminum Helomat system as a retrofit to the existing 100' x 200' (31m x 61m) concrete pad. This allowed for only the damaged top layer of concrete to be removed and the leaks in the roof repaired. The aluminum panels of the Helomat system were then overlaid on the concrete base. FEC Heliports snowmelt system was run through the Helomat helideck enabling the hospital to have complete maintenance access to this system in the future as required.
A state of the art helideck lighting system was installed as part of the upgrade. This included FEC Heliports latest system, PAD-Star®, which features NVG compatibility for improved safety and the functionality of flashing sequenced lead in lights. The provision of a remote lighting controller enabled air to ground control over the lighting system which also comprised new LED hooded perimeter flood lighting. The addition of updated markings to current FAA Standard completed the provision of a fully compliant modern fit for purpose helipad.
Tom Schuman, President of FEC Heliports said, "We strive to deliver value to our customer and focus on finding the best solution available to each installation. Our retrofit saved the hospital over six months in total construction time and most importantly allowed the hospital below the helipad to remain open. Now the hospital has a maintenance free 6000 series marine grade aluminum surface to land on with a highly reliable snowmelt system, that they can access at any point now or in the future without the use of a jackhammer."
On show at this year's HAI Heli Expo Conference will be the FEC PAD-Star lighting system and also for the first time FEC's latest innovation to its portable lighting range - HEMS-Station®.
HEMS-Station® is the ideal solution for the secure storage and solar powered charging of ten HEMS-Star® portable LED helipad lights, keeping them ready for immediate deployment. HEMS-Station® can be powered from 110 - 230V AC mains, solar array or wind turbine. Or it can take any combination of these power supplies, automatically switching to the lowest cost or the greenest source of energy.
The first HEMS-Station® enabled secondary landing site has recently gone live in the United Kingdom - in Hereford for the Midland Air Ambulance Charity (MAAC).
For the Hereford site, the HEMS-Station® Solar Plus package was chosen. This package offers a fully autonomous solar power supply, mounting system and a solar series wind cone.
MAAC's landing site at Hereford is supported by a team of community volunteers who can rapidly mark out a safe landing area so that the charity's helicopters can remain operational after nightfall. In this way HEMS-Station® helps to extend air ambulance operational hours.
The charity needed a solution to support emergency pre-hospital patient care in the more remote parts of its region. The site at Hereford was selected to host a temporary night-lit landing site as the local hospital's helipad was not night capable. Thanks to HEMS-Station® the secondary landing site now allows patients to be reached and treated at local incident scenes after dark. Where patients are in need of specialist care they can be rapidly taken to the nearest major trauma center. HEMS-Station® helps to reduce patient transition time increasing the opportunity to treat the seriously injured as soon as possible.
The launch of the Hereford site was captured on video and a film of HEMS-Station® in action can be viewed at FEC Heliport Worldwide website.
Tom Schuman concludes "The portable helipad lighting technology developed by our partners at FEC Heliports Worldwide has a proven track record of success and reliability. Operational in the field for over five years, it is used by HEMS operators around the world and deployed on two United Nations Missions. HEMS-Station® Solar Plus is a turn key solution that enables secondary or temporary landing sites to function safely at a fraction of the cost of permanent installations. It offers great flexibility, can be installed in any location, is virtually maintenance free and can be monitored remotely. HEMS-Station® has great potential for our market and we look forward to giving live demonstrations of this product at HAI Heli Expo 2018."
The HEMS-Star® system has achieved both US FCC Certification and European CE certification.
Available at the booth for demonstrations of the equipment or to discuss your requirements will be Tom Schuman from FEC Heliports Inc. and Fraser MacKay from FEC Heliports Worldwide Ltd. Booth number N3509 at the Las Vegas Convention Centre, 3150 Paradise Rd, Las Vegas, NV 89109, USA
---
For more information contact:
1 The Mead Business Centre
176-178 Berkhampstead Road
Chesham
Buckinghamshire
HP5 3EE
United Kingdom
Tel: +442081445934