World Border Security Congress
2018-03-21 08:56:36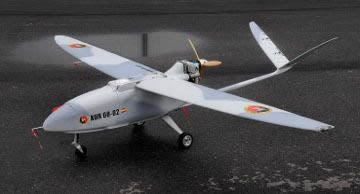 Spanish Armed Forces acquire SCR's Atlantic and Tucan RPAS
The Spanish Armed Forces, through the Directorate General of Armaments and Material (DGAM) of the Ministry of Defense has recently acquired various units of the Atlantic and the Tucan, two remotely piloted aircraft systems (RPAS) developed by SCR, a company of the everis Aerospace and Defense group.
The DGAM decided to purchase two units of the Atlantic and one Tucan to incorporate them to the Group of Information and Location Artillery (GAIL, in Spanish) II/63. This unit of the Spanish Army has been assessing the capabilities of these aircrafts in recent months, in the context of the Rapaz Project.
Furthermore, the DGAM has also acquired four units of the Tucan RPAS, two of which will be devoted to perimeter control activities in the San Gregorio military base, while the other two will support pilot training in the Group of Schools of Matacán (GRUEMA, in Spanish) of the Air Force in Salamanca. The total value of this contract amounts to 1.5 million euro.
José Antonio Ceballos, CEO of SCR, stated that 'during the different phases of the Rapaz Project we have worked closely with the Spanish Army, and especially with the GAIL to develop these platforms based on their recommendations and needs. The achievement of these contracts is great news for SCR and everis Aerospace and Defense. The trust placed in our line of RPAS by the Armed Forces represents a significant endorsement of the work we have conducted since the company was founded in 1994'.
In addition to the aforementioned acquisitions, there have been important advances with regard to technical aspects in recent weeks. During the latest flight campaigns launched in the context of the Rapaz Project last November, the Atlantic RPAS was able to surpass for the first time the 90km radius of action with real-time data and video linking, without interferences, and without using intermediate communication relays on the ground.
This can now be added to the rest of achievements that marked previous exercises, such as when it reached 12,000 feet of flight altitude. Similarly, during the latest campaigns in the context of the Rapaz Project, the Tucan RPAS reached an operational altitude of 8,000 feet.
You can meet everis at the World Border Security Congress, Madrid
---
For more information contact:
Casablanca
-
Morocco
Tel: +442081445934