World Security Report
2018-09-24 07:48:48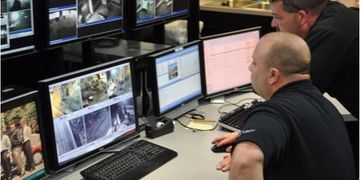 Jemez's New Scalable, Video Surveillance Platform for Critical Infrastructure Protection Certified with FLIR® Thermal Cameras
Jemez Technology introduced the Eagle-i Enterprise™ perimeter video surveillance platform for critical infrastructure protection. An extension of the company's innovative Eagle-i Edge® software technology, the system provides scalable, best-in-class surveillance capability that has been successfully deployed in government and commercial security environments around the world. It also includes new, patented Scene Synthesis™ machine-learning technology for enhanced situational awareness, detection accuracy, and operating range.
The Eagle-i Enterprise platform has been certified with FLIR® Systems, FB- and FC-Series thermal security cameras for both wide-area and long-range detection. FLIR's advanced thermal cameras, combined with Jemez's leading-edge Eagle-i Enterprise software, become highly-accurate smart sensors without the need for supplemental lighting, even in difficult weather conditions. The result for customers is precise, 24/7 wide-area, long-range detection capability to optimally leverage security teams while significantly lowering infrastructure and operational costs.
Eagle-i Enterprise provides turnkey event integration with access control relay panels, IoT devices, and leading video management systems, including OnSSI Ocularis 5, for unsurpassed real-time protection.
"We are pleased to be working with Jemez to provide reliable, thermal security cameras for our customers needing precise real-time monitoring and situational awareness for mission-critical asset protection," said Travis Merrill, President of the Commercial Business Unit at FLIR. "Having provided perimeter and threat-detection technologies since 1978, our thermal imaging solutions have become an industry standard for 24-hour perimeter protection for critical infrastructure and industrial applications."
"Our customers depend on Jemez Technology solutions to keep people and key assets safe—by preventing loss from criminal activity or business downtime. Eagle-i Enterprise™ is ideal for critical infrastructure protection, including coverage of large-footprint facilities that are difficult to secure with conventional perimeter technologies. Combined with FLIR thermal IR cameras, this solution represents best-in-class perimeter detection and tracking capability, saving our clients money and resources," said Al Perez, President of Ariel Technologies.
---
For more information contact: