Armourshield Ltd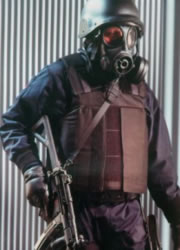 REV Body Armour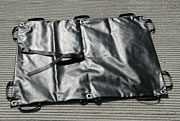 Ballistic Blanket
BPS/A & B Ballistic Shields
Armourshield has manufactured high quality body armour for 30 years, and established a worldwide client base among military and law enforcement agencies.
Armour is available in a variety of styles, both overt and covert, to meet the needs of the end user.
The Armourshield patented "Blunt Trauma System", a feature if all our vests, considerably reduces the potential for serious injury, by spreading the energy over a larger area when a vest is hit by a round.
Our in-house ballistic range enables us to thoroughly test new products before they sent for formal certification. Indeed, Armourshield has more NIJ (US) product certifications than any other non-US body armour manufacturer.
All products are manufactured to ISO 9001:2000 standards and the company has recently received Investor in People accreditation.
Product Range
Body Armour - Ballistic, anti-stab, and dual purpose
Protective Aprons - For de-mining and industrial purposes
Hard Armour Upgrade Plates - For use in conjunction with body armour to provide protection from high velocity rifle fire
Ballistic Shields - Available in Levels IIIA and III
Ballistic Blankets - Blast and fragment containment, various levels
Ballistic Clipboards - For use at checkpoints etc.
Ballistic Bags - Available in a number of formats, to permit carriage, loading and unloading of weapons in sensitive areas and transport of loaded weapons in a sterile environment for forensic applications.
Armourshield are also able to supply helmets and a wide range "sundry" items for the military and law enforcement market.