DuPont Personal Protection
DuPont Personal Protection
Protecting the workforce with the miracles of scienceTM
Using specialized materials, expertise and technologies developed over 200 years, each brand under the DuPont Personal Protection umbrella offers solutions for personal protection from specific risks and levels of exposure in the workplace. DuPontTM NOMEX®, KEVLAR®, TYVEK®, TYCHEM® integrate the entire portfolio of products and services for personal protection against: heat and flame, cut and abrasion, hazardous and non-hazardous chemicals, vapours, liquids, dry particulates and general dirt: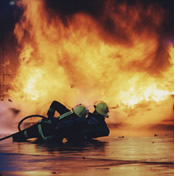 Picture courtesy of "West Midlands Fire Service" Photographer Ted Ockenden


The high level of heat and flame protection provided by NOMEX® is due to the molecular structure of the fibre, which means that the heat and flame resistance is inherent and permanent. Specialised NOMEX® protective garments are mostly worn by firefighters and workers in the petroleum, petrochemical and public utility industries.





The KEVLAR® range of solutions for hand and wrist protection includes industry specific designs. KEVLAR® Comfort Technology and KEVLAR® Clean Technology gloves offer cut-resistance levels 3 and 4; KEVLAR® Armor Technology offers at least level 5 protection. All KEVLAR® solutions carry a distinctive DuPontTM KEVLAR® Power of Performance label, which assures both wearers and specifiers that they have the level of protection they need for the job at hand.





Protective coveralls made of DuPontTM TYVEK® offer excellent barrier protection, durability, comfort and fit. TYVEK® garments can be used to protect the wearer in environments where the risk of dry particulates, liquid spills and water-based chemicals as well as dirt are a threat to the health or safety of personnel. Low weight, high strength, puncture, tear and abrasion resistance, vapour permeability, water repellency, rot resistance, and biological inertness are some of these. In addition, DuPontTM TYVEK® is low-linting, smooth and opaque. TYVEK® Classic Plus with its recent certification against biological risks according to EN 14126:2003 offers a very interesting combination of protection durability and comfort.





For a higher level of protection against hazardous and chemical environments, TYCHEM® C, TYCHEM® F coveralls can be specified. These garments consist of TYVEK® with various additional qualities and finishes. Now also certified against biological risks according to EN 14126:2003, they offer a combination of chemical and biological protection as well as lightweight in a single garment. For High Level protection against toxic corrosive gases, liquids and solid chemical DuPont offers TYCHEM® TK full coverage gas tight suits.

To help you choose the correct DuPont protective gear for your task, DuPont has a team of technical experts who can recommend the best garments for protection against specific chemicals, biological pathogens, dry particulates, liquids or general dirt. For more details, please contact our Techline Service: Tel. 00 352 021 164 043.

For more information on KEVLAR®, NOMEX®, TYVEK® and TYCHEM®, please visit www.dpp-europe.com

The miracles of scienceâ"¢, DuPontâ"¢, NOMEX®, KEVLAR®, TYVEK® and TYCHEM® are trademarks or registered trademarks of DuPont or its affiliates

NB: The use of the images (photos, slides, transparencies, etc.) granted by DuPont is authorised only in connection with the editorial material supplied by DuPont itself and cannot be used to illustrate material related to products and/or services given by companies other than DuPont.