Vidisco Ltd.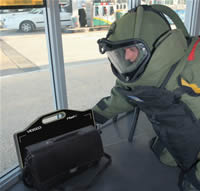 Vidisco portable X-ray inspection system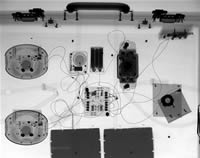 Sample x-ray image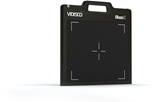 BlazeX
BoltX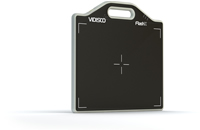 FlashX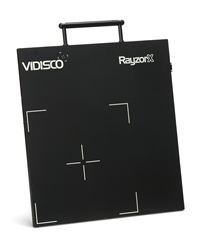 RayzorX
Vidisco Ltd. is a leading designer and manufacturer of state-of-the-art portable X-ray inspection systems. For a quarter of a century Vidisco has been revolutionizing the X-ray industry as it was the first company to offer a portable, PC-based digital X-ray system packed in a single suitcase. Today, Vidisco still leads the way for innovative digital X-ray technology with amorphous Silicon based panels, offering products such as the thinnest panel in the world, and a compact panel approximately the size of a DVD case.
Today, Vidisco's portable digital X-ray systems are sold in over 75 countries and deployed in every kind of terrain and weather conditions. In the area of Security, Vidisco's portable digital X-ray inspection systems are used for bomb detection and disposal, VIP protection, searches for drug/contraband smuggling, customs and forensics (including Dual Energy detection). In NDT, Vidisco's ruggedized portable digital X-ray systems are employed for field inspections in the areas of aerospace, shipyards, pipes and welds, art and research, casting, construction and electrical power.
Products
RayzorX
Vidisco's RayzorX portable digital X-ray system is based on the thinnest imager ever built, (just 13mm depth). It offers excellent penetration of 2 mm of lead detected behind 70 mm of steel, and top-quality X-ray imaging: 14 bit (16,384 Grey levels) images and 3.5 lp/mm resolution. Only one approach (or none with a robot) is needed for acquiring an X-ray image, which is instantaneously available on the laptop screen.
Thinnest panel in the world! Just 13mm
Excellent penetration - 2 mm of lead detected behind 70 mm of steel,
Fully portable X-ray system
BlazeX
The BlazeX digital radiography system is proven for field use. Large-area, ruggedized, lightweight and thin, it provides top-images in extreme weather conditions. This system offers excellent resolution: 3.97 lp/mm (127 μm pixel pitch). As the system is fully battery operated for long periods of time, there is no need to change batteries down range.
Drop tested - excellent for field use
100% battery operated with extra long operation periods
Lightweight and robust - easy to carry everywhere
FlashX
With 16 bit dynamic range (65,536 Grey levels), excellent penetration results and a resolution of 3.5lp/mm is maintained behind 3mm of steel, FlashX provides the highest level of detail in digital radiography imaging. Vidisco's FlashX digital portable X-ray system features a large area panel that's lightweight, battery operated and robust.
Incredible 16 bit Dynamic Range
Highest penetration - 2 mm of lead visible behind 80 mm of steel
Large-area, thin and robust flat panel
BoltX
Vidisco's newest panel is the ruggedized BoltX. Never before have such outstanding X-ray capabilities been available in such a compact, lightweight unit, which weighs only 1.5 Kg (~2.4lbs) and allows crystal clear imaging with no dead space.
Extraordinary resolution of up to 6.6 lp/mm
Viewing area of 115 X 145 mm (4.5 X 5.7")
Imaging from the edge, 6 mm on three sides
For more information - www.vidisco.com or contact security@vidisco.com