NABCO Inc.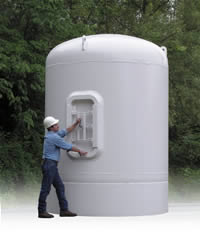 NABCO TCV Model64 BioChem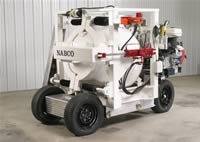 NABCO SLCV With Xray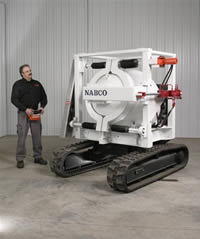 NABCO Explosives Storage Vessel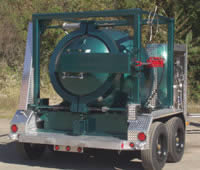 NABCO TCV Model42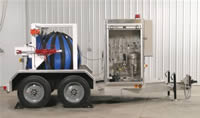 NABCO Ammo Destruction System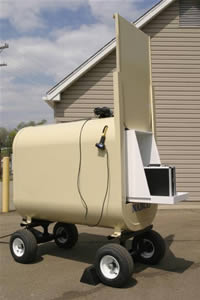 NABCO Tracked TCV Transporter
NABCO: The World Leader in Explosive Containment
NABCO is the world leader in explosive containment. For more than 20 years, bomb squads, police departments, government agencies, airports and defense departments around the world have relied on NABCO explosive containment solutions.
Total Containment Vessels
NABCO's line of Total Containment Vessels (TCVs) allow users to contain explosive and WMD threats and dispose of them safely.
In addition to standard models, NABCO TCVs are also available in BioChem-ratedâ"¢ models that can contain a biochemical hazard up to their maximum explosive rating. This BioChem-ratedâ"¢ capability significantly enhances the protection that EOD teams receive when confronting an IED that may contain a biological or chemical agent -- an important consideration in today's post-9/11 environment.
A wide range of TCV options are available, including radiation shielding, decontamination systems, programmable logic controls and more. A wide variety of mobility options are also available -- including trailers, tracked transporters and custom-built vehicles.
Explosives Storage Vessels
NABCO's line of Explosives Storage Vessels (ESVs) allow EOD teams or military units to store explosive tools or munitions close at hand, speeding response times.
Approved by the U.S. Department of Defense Safety Board, these patented ESVs provide the lowest Reduced Quantity/Distance Ratings in the industry -- allowing users to store explosives as little as five feet from inhabited buildings. Rated at 10, 14.5, 22.5 or 36.25 kg of TNT, ESVs can be placed within existing security perimeters for fast access.
Suspect Luggage/Package Containment Vessels
The NABCO Suspect Luggage/Package Containment Vessel (SLCV) provides an easy, safe, compact and affordable way for screeners to safely contain suspect packages or luggage until the bomb squad can respond. SLCVs are in use at a wide range of facilities -- including airport passenger and baggage screening areas, subways, railways, mail and package sortation facilities, and government and commercial office buildings. Facilities that use the SLCV can reduce the number of disruptions and evacuations that occur, and enhance the safety and security of screening personnel and the public.
NABCO SLCVs can be extensively customized to meet unique customer needs -- and even integrated into in-line baggage systems.
Ammunition Destruction System
NABCO's Ammunition Destruction System provides an easy, environmentally safe, and affordable way to destroy live ammunition, pyrotechnics, illegal drugs and other confiscated material.
EOD Grabber Pole
NABCO's EOD Grabber Pole is a lightweight, easily deployed tool that enables EOD technicians to move items that would otherwise be difficult to reach. With a deployed length of 228.6 cm, the Grabber Pole provides significant standoff, yet collapses to a size that easily fits within any vehicle.